From Quaint Until Today
Your Hosts - Linda and Mulat
We are now your hosts at the Braeside Country Inn. With some time to explore in 2017, we found ourselves in beautiful Nova Scotia and then in beautiful Pictou Town. We decided it would be a good choice to move here from Ottawa / Gatineau in 2017.
When we arrived here, we fell in love with a community that is vibrant and friendly. There is so much to see and do in this community and we have been welcomed from the moment we arrived.
On April 28, 2017, we became the owners of the Braeside Inn. We quickly discovered that it has its own character and historical significance which is deeply entwined with that of the town.
We both have over 10 years of experience in international tourism industry... experience that we bring to become your attentive and sweet hosts.
Now that we have found ourselves a home, we look forward to welcoming you. We would very much like you to consider the Braeside Inn to be your Home away from home.
Sincerely,
Linda Qian and family.
The First Chapter
Our Beginnings
It was quite an event when our Country Inn was built in 1937 as a place of rest and entertainment in the local community. The 'Braeside' which means 'Hillside', overlooks a local ship yard and former iron foundry and train station. When it was first built, each of these were going concerns that would become vital and bustling industries over the next decade. During the Second World War, guests would have been able to see upwards of 2,000 men and women building a new 'Park Ship' every month.

Post-War
In the Post-War years, the townspeople continued to hustle and bustle. Although there were fewer needs of military ships, there continued to be a strong demand for the quality workmanship produced by the men of the shipyard. At the nearby Braeside, local business leaders and socialites gathered for receptions and fun.
The hotel was a popular place to be for out of town guests, but the restaurant was a draw in Pictou. With it's decorations reminiscent of medieval times and tributes to Scottish and British heritage, King Arthur's Court heard many tall-tales from the locals... and created a few legends of its own.
A Booming Business
In the 1960's new ownership arrived in the form of Alex Joseph. Mr. Joseph had been stricken by polio at a young age, but seemed to have an incredible amount of energy. His enthusiastic touch caused the hotel to become a hotspot in the community. Long lineups were seen at the door and visitors arrived from across the province to be a part of 'the scene'. In 1967, the Pictou Advocate noted that 'The Braeside dining room was filled to capacity Saturday evening when Carl Hiltz and his orchestra played at a supper dance. A receipt from August 1953 shows the nightly room rate was just $5.


Decline... and Rise Again
Over the next decades, the hotel would see many great parties and exciting times. In many ways, its success followed the success of the community around it and for a while it fell into disrepair. With the arrival of Tom MacKay and Claude Ferland in the 1980's, the site was re-built, re-landscaped and re-vitalized. Once again, people were thrilled to come out for a luxurious meal or a New Year's dance or to observe the summer's fairs.
A thrill for the community in those days was a Royal Visit to Pictou. While in Pictou, Princess Anne participated in a special ceremony honoring the settlers who arrived on the Ship Hector. There are fond memories of her visit to our hotel in 1991.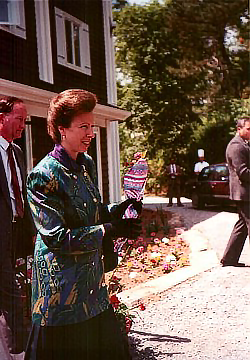 The Next Chapter
We acquired the beautiful Braeside property in 2017 from previous owners Ann and Mike Emmett. Already we are excited by the many possibilities that our location has to offer. This beautiful setting in the heart of Pictou has allowed us to host some wonderful wedding receptions. Our conference room allows us to host corporate retreats and our kitchen and dining room mean that we can cater special events and functions. We can't be sure what the future has to offer, but we do know that The Braeside Country Inn will offer a future full of adventure for our family. Be a part of the journey... experience the Braeside Inn with us.